Pris: Kr. i dobbeltværelse inkl. kost og logi
Challenge your imagination
Meet the artist Fadavi, a fascinating and vibrant teacher. If you would like to create images and find inspiration in a room with mood and creativity, this is a case for a course with FADAVI. You will be able to challenge your imagination in conjunction with other students with the same interest. Based on various exercises, the artist will show you new techniques and possibilities in the visual language.
Throughout the whole course, you will work with your own material and expression under expert guidance. In the folk high school you will also have lectures, singing nights, and morning gatherings. It will be a week of speed and colours on the canvas!
Practical info: Materials like paint, canvas, frames and brushes can be bought at school, but you are welcome to bring your own. The school sets up easels.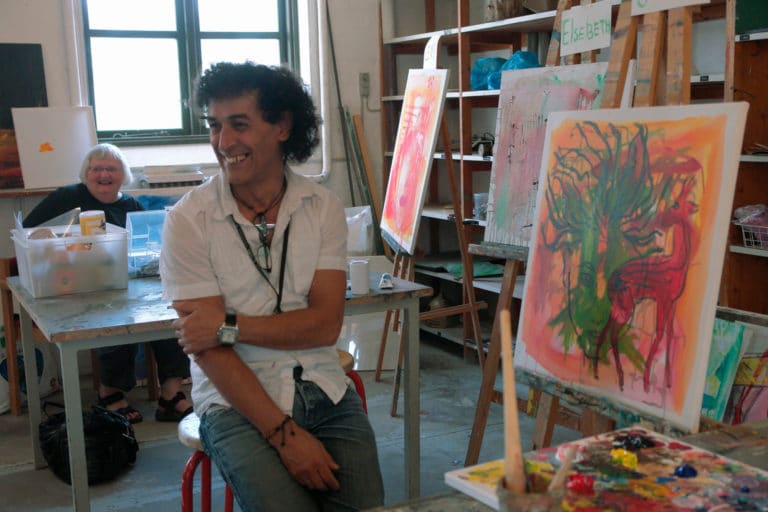 Fadavi is educated at the Design School in Kolding 1985-1990 and the Aarhus School of Architecture in 1990. In 1994 Fadavi started his own studio: "Atelier Fadavi".
He is an artistic advisor, innovator and project manager at schools, folk high schools and youth schools, where he and volunteers work on scenes, sculptures, murals, decorations and paintings. He is currently a teacher at the School of Art and Design. For more info, see: www.fadavi.dk
Udfyld tilmeldings-formularen og kom afsted!
Har du lyst til at deltage på et af Vrå Højskoles mange sommerkurser, gælder det om at tilmelde sig – og gerne inden alt for længe. En del af vores kurser er nemlig hurtigt udsolgt, så det gælder om at komme først til mølle.
Mange af vores kurser har med vilje kun plads til 15 deltagere – nogle enkelte mere. De små hold sikrer, at du får ekstra meget ud af undervisningen – og samtidig lærer de øvrige kursister på holdet bedre at kende.
Skulle det kursus, som du gerne vil på, være udsolgt, så skriver vi dig gerne op på venteliste. Du kan nemlig være heldig, at en anden må melde afbud – og så kontakter vi selvfølgelig dig. Vi glæder os til at møde dig – og lære dig bedre at kende. Brug tilmeldings-formularen herunder.
Uforpligtende tilmelding til kurset:
Del denne side på de sociale medier: